A bit about Lynda's Business
[ezcol_2third]I started my business because people kept asking me for help with their Resumes and job applications. After working in HR, and sitting in the employer's seat, I realised that many people I'd encountered weren't really clear about what they wanted to do.  They also weren't considering what the employer wanted. Many just wanted 'a job', and didn't expect to be happy or inspired by what they did. It was as though that was unachievable. As I talked to people about what they specifically had to offer (their value), what they'd ideally like to do, how that might be achievable, and how to position themselves for it – I saw 'lightbulb' moments happen.  I love that part :-)[/ezcol_2third] [ezcol_1third_end]
[/ezcol_1third_end]
It takes the right mindset, there's a process to follow, and persistence is required, but if you're willing to put in the work, then achieving work that loves you back is possible. My passion is to help people get their direction, understand their stories and learn how to promote themselves – in person, on paper and online.
My business grew from reinventing myself to spend more time with my daughter and family.  I left corporate life in Marketing/HR, became a qualified Trainer, then studied post-grad Career Development, and am now a Career Coach. Some of the ways I support clients are:
Job Application Assistance

Writing or refreshing Resumes/CVs

LinkedIn Profile Writing

Cover Letters

Selection Criteria 

Interview Skills Coaching.

Preparing for applying for promotions, annual reviews and salary reviews

Identifying transferable skills and abilities

Effective communication of achievements and career stories
Although there are many useful resources online, I find people still want someone to help navigate the careers space, especially when it comes to marketing themselves.  It's always harder to do this for yourself than others, and it's something I love doing.
I have worked with more than 220 clients and love receiving their calls and emails telling me they've landed that new role, been promoted or won that higher salary. 
Community involvement is one of my strongest values.  I was school P&C President for three years, and am still actively involved in fundraising for many projects over five years – I'm an old hand at sausage sizzles, election stalls, and village festivals!.  I recently accepted the role as President of Holidays for Health – a Brisbane-based, start-up organisation providing short retreats for women with mental illness. It's an exciting initiative that really makes a difference to women who are often living with disadvantage..  Check us out at: https://www.facebook.com/HolidaysforHealth
Contact me or book in a discovery call.    

Certifications & Affiliations
We're Certified … by Career Money Life
Have you ever booked a hotel online only to show up and find out that it wasn't really what you expected? Your perception didn't really match the reality? Those gorgeous photos on the Internet turned out to be completely false and that delicious sounding continental breakfast was really just instant coffee and bland, white toast. It's disappointing, it's maddening and sometimes costly, but how can you be sure that what you're buying online actually lives up to your expectations?
Businesses competing online need strict vetting processes so that consumers know they are buying from credible, quality providers, who deliver what they say they will. This is even more important in the services space where the product is the person delivering the service. 
Recently, Top Job Coaching entered a partnership with Career Money Life, a new online business poised to shake-up Australia and New Zealand's career transition and development industry for the better.
A world's first, Career Money Life is an online platform for selecting career development and transition service that uses community feedback to help people choose relevant and meaningful services for their development or transition based on their needs. Purpose built to embrace individuality; Career Money Life offers a holistic, inspired range of services in career development and transition, money management and health and wellbeing.
Career Money Life recognises that it's only as good as its suppliers, and so puts a great deal of care into the selection and vetting of any potential supplier. 
I am pleased to say that Top Job Coaching completed a strict vetting process that includes checks on our professional industry certifications, academic credentials, appropriate licensing, as well as the ACCC, ASIC, Scam Watch investigations, DIA, Commerce Commission Consumer Report, and NZ Companies Office. In addition, social media and Google search reviews were also conducted.
And we were delighted to do so!  I am pleased to say we have been approved as a supplier with Career Money Life, which is great news for you, and us.
You benefit from the peace of mind that comes from knowing that we are who we say we are, we stand by what we say and deliver quality services that exceed expectations. 
Career Money Life Certified Supplier logo; it's your assurance that we have met strict standards in quality and competency.Learn more about our certification at www.careermoneylife.com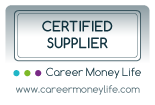 Lynda Bundock is also proudly a member of: 
[one]
HOME MEET LYNDA RESUME & CV INTERVIEW SKILLS CUSTOMISED TRAINING MANAGEMENT TRAINING INDUCTION PROGRAMS & ORIENTATION TESTIMONIALS BLOG CONTACT
[/one]